XRP suffering fall-out from SEC's 'contemptible' efforts to penalize launch efforts
It's fairly clear that cryptocurrency is facing a reckoning of sorts recently. While the large-scale downward pull hasn't spared XRP (CCC:XRP-USD), there's a narrative emerging that favors it moving forward.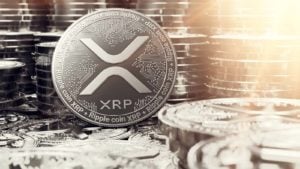 Source: Shutterstock
XRP is the digital currency issued and partly managed by Ripple, the payment solutions company that also manages the RippleNet cross-border payment network. Unlike Bitcoin (CCC:BTC-USD), XRP coins are not mined.
Ripple minted the entire supply when the network was launched in 2012, and Ripple intermittently releases portions of the supply from an escrow and sells them on the open market. Out of the total 100 billion supply of XRP, over 46.2 billion coins are currently in circulation.
There are at least three reasons XRP should fare well after this most recent cryptocurrency downdraft subsides.